Paul Sweeting - Musical Director (Cyfarwyddwr Cerdd)

Paul Sweeting has been with the choir since 2012. Throughout his teaching career, and later as Deputy Headteacher, Paul had particular responsibility for the Music curriculum in the schools where he worked, also developing his choral training and conducting skills in joint school ventures. He also sang as a member of the BBC Welsh Chorus in the 1980s and was conductor of the Newport Gospel Male Voice Choir at that time.
Besides recently taking over the Directorship of the Talgarth Male Voice Choir, he conducts a local mixed voice choir and uses the harp playing in a light rock/folk band and accompanying a local singer of welsh traditional songs.
Mrs. Morwen Pugh - Honorary Musical Director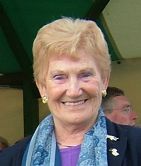 Mrs Morwen Pugh, M.B.E., L.R.A.M., (retired music teacher) who has been with the choir since its conception in 1969.
It was Morwen who actually founded the choir following informal chats with some of 'Her Boys' who wanted to sing and 'have some fun'. She has been its inspiration ever since and some of those 'boys' (a little greyer perhaps, but certainly no wiser!) are still singing today. Morwen was awarded the MBE in the 2011 Honours List for her services to music.